Student News
2017-2018
Communion Prayer of Thanks
Our students in Grade 2A wrote Holy Communion prayers and made a related drawing using Microsoft Paint. This was a cross-curricular computer class and religion project.
Sea Turtle Recovery Presentation
First through third graders were treated to a wonderful presentation by Ms. Brandi Biehl and Erica from Sea Turtle Recovery on Monday, June 4th. This non-profit organization is dedicated to the rehabilitation, preservation and conservation of sea turtles and is located within Essex County's Turtle Back Zoo. The students had already been introduced to sea turtles via library books/classes and the after-school Science Explorers Club. The representatives from Sea Turtle Recovery showed a slide & video presentation and talked about the many ways in which they treat, release and protect sea turtles. They brought equipment to demonstrate how to measure turtles and how they tag them as well. The students and teachers also participated in a question and answer session. You can check out their website or make donations to their organization at seaturtlerecovery.org.
Click here to view presentation pictures.
STEM Fair
Our annual STEM Fair was held on Wednesday, May 30 in the GSA gym. It was another huge success. Thank you to Mr. Pignataro for his hard work on this educational event. Congratulations to all the participants and winners!
Elementary School Division
3rd Place - 5J: Noah Esposito (Homemade Water Filter)
2nd Place - 6G: Kayla Davila, Courtney Peloso; Christina Zamora (Light-Tracking Bristlebot)
1st Place - 6M: Daniel Diaz, Jake Santos; Joseph Springsteen (Pulley System Go-Kart)
Middle School Division
3rd Place - 7A: Brianna Santos; Emily Santos (What type of soil is strongest to support a building?)
2nd Place - 7P: Nicolette Stefanelli (Ultraviolet Light)
1st Place - 8E: Dominic Chu; Jeremy Mata (Bridge Tension)
Visit our photo gallery for event pictures.
Outstanding Catholic School Graduate
Christian Hui has been chosen as GSA's Outstanding Catholic School Graduate of 2018. This award is given annually on one 8th grader from each Catholic elementary school in the Archdiocese of Newark. Christian works hard academically and exemplifies Catholic values in word and deed.
Voci Choir Ranked as Superior
Congratulations to our choir for participating at the iSing Choral Festival! Our group was ranked Superior by the judges. Great job everyone! Visit our photo gallery for pictures or click here.
Frog Dissection
Our middle school students performed frog dissection today! The procedure gave a good overview of the organ systems of a complex living thing. There's a magic that happens when you have the perfect combination of learning and doing – who wouldn't remember the amazement of holding intestines while learning about what they do? Click here for more pictures.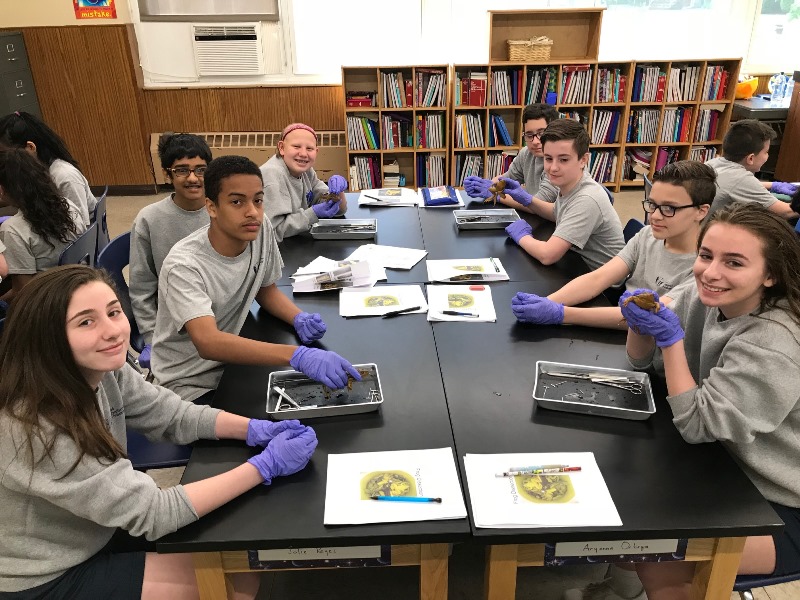 Spring Book Fair: Paws for Books
Celebrating "Paws for Books" Scholastic Book FairQ Our 3rd graders also created "paw print" shaped word clouds about book genres in their computer class. They are now hanging up at our "Paws for Books" Scholastic Book Fair. Click here to view pictures.
Third Graders Environment Project
"Producers, consumers, decomposers, oh my!!" 3A put together an example of an environment containing "dirt", "worms", "grass", and "animals" -- all edible, of course!
Click here for more pictures
First Graders as Mother Hens
You might say it's an eggs-citing time to be in first grade as students welcome 2 dozen friends to the classrooms. First graders get a chance to be mother hens for two weeks, first by turning the eggs in the incubator and monitoring temperature and humidity. Names are selected and predictions made as to which egg will hatch first. Finally, the eggs-uberant children watch as chicks make peepholes then tumble out of their shells. Our hard working mother hens can now enjoy the little peeps and share the joy with the GSA community until Farmer Angela takes them home to Quiverfarms.
Click here for more pictures.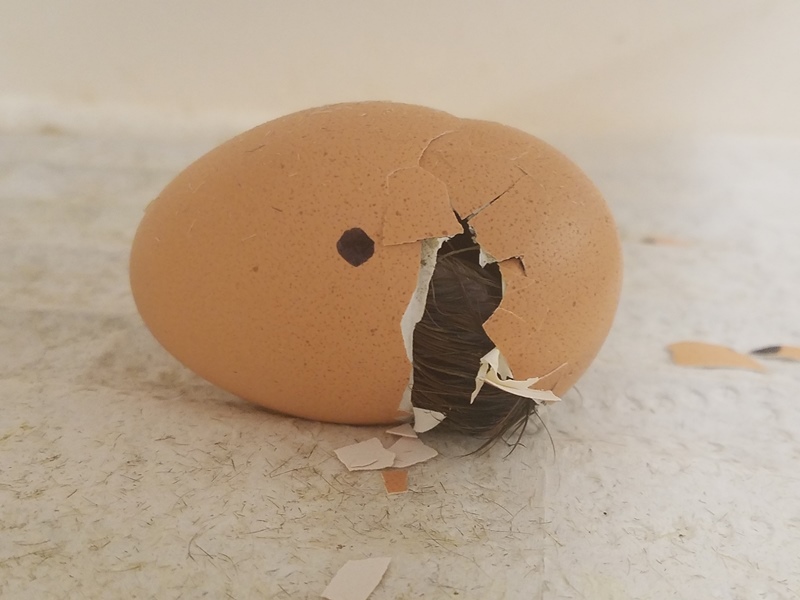 1st Place Chess Champion
Congratulations to 4th grader, Sharon Pinto, for winning first place in her grade level, at the NJ Elementary Chess Championship, held in Brookdale College on February 25.
Valentine for Veterans
Students from grades K - 5 participated in the Valentines for Veterans program sponsored by Congressman Rodney P. Frelinghuysen. The valentine cards made by the children will be given to veterans located at either the Lyons VA Hospital Center or East Orange VA Medical Center.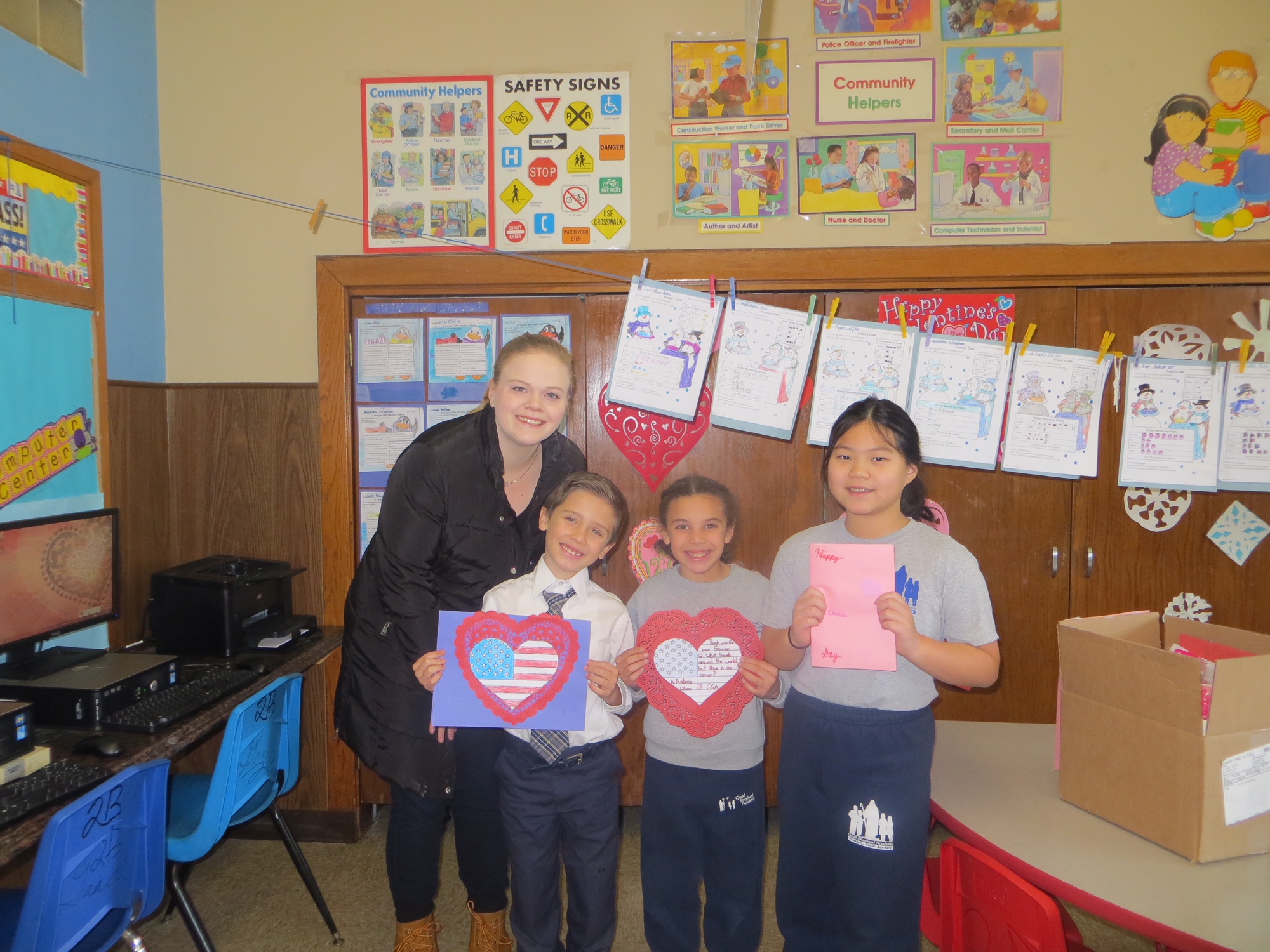 4th Grader participated in Americanism Coloring Contest
Sharon Pinto received Honorable Mention in the Americanism Coloring Contest sponsored by Post #70. In addition to a certificate, she also received a $25.00 Barnes & Nobel gift card.
Unity Assembly in Honor of Martin Luther King, Jr.
The entire student body gathered in a circle representing unity and equality and each class delivered inspiring words. Click here to see pictures.
Story of Snow
What a coincidence! On a snowy day our fifth graders came to school to find their reading selection was "The Story of Snow." Now they know how each snowflake gets its start and grows!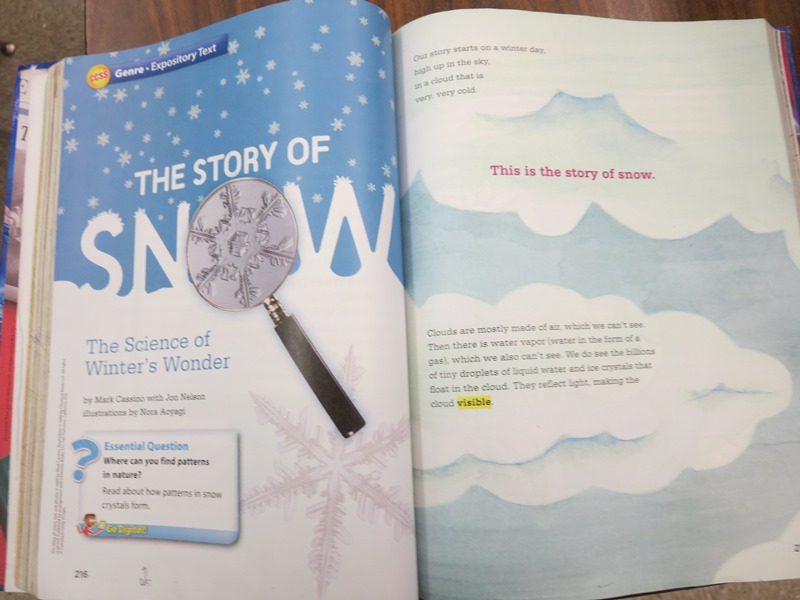 6th Grade Class donates to YWCA
This year, Mr. P's class Christmas activity was a lesson about giving back, under the directive of the class parents. The 6th graders stuffed Build A Bear like animals and wrote out Christmas cards to less fortunate children. The gifts were donated to the YWCA in Elizabeth. Great job to the Class of 2020 and their class parents!
STEM - Grade 3A builds a Gingerbread House
Grade 3A gets involved in S.T.E.M. They were up to their elbows in glue (frosting) trying to get the houses to stay together and then not collapse under the weight of the decorations (sweets). After all their hard work, they were able to sit back, relax, and take a bite! (Click
here
for more pictures.)
4th Grade Sharon Pinto won Chess Competition and Spelling Bee
Congratulations to 4th Grader Sharon Pinto for winning first place in the Lions Club of Nutley Annual Spelling Bee held last Saturday, Nov. 18. She also participated in the NJ State Championship grade level competition held at Brookdale College and won 3rd place. Participants in this competition are other 4th grade students in the state of NJ.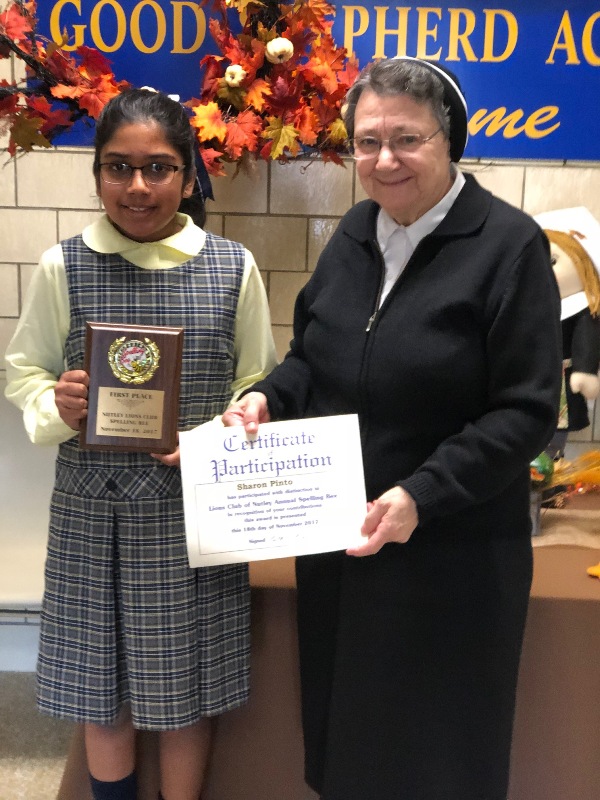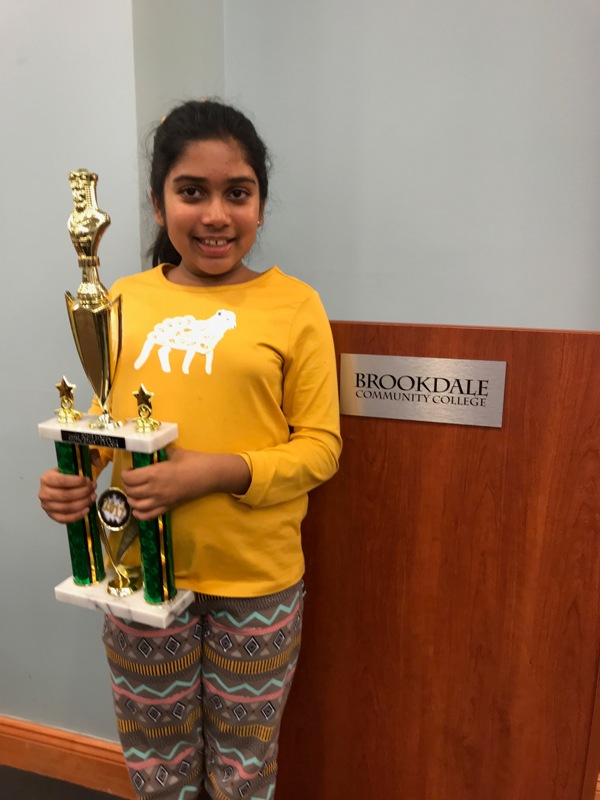 Learning about Pilgrims
Second graders learned about life as a Pilgrim child. The children read books, watched videos and wrote about what Pilgrim children wore, what they ate, what kinds of chores they did and what Pilgrim children did for fun. This was a fun and exciting project enjoyed by all! Come see our display in the second grade hallway!
Sumdog's Essex County Math Contest Results Are In!
In total, 595 students from over 35 classes answered 147,587 questions correctly. GSA's Grades 2 through 5 participated in the contest. The overall winners are the classes which scored highest throughout the contest. The top 10 finishing classes included some from our own GSA:
Grade 2B came in 4th place
Grade 2A came in 5th place
Grade 3A came in 6th place
Grade 4B came in 10th place
The top students are the ones which answered the most questions correctly throughout the contest. (1000 questions maximum) The top ten students (who were awarded a certificate) include:
1st place with 997 correct answers was Sharon Pinto, Grade 4
2nd place with 996 correct answers was Catarina Pita, Grade 5
3rd place with 979 correct answers was Ysabelle Frum, Grade 4
4th place with 964 correct answers was Noah Lopez, Grade 3
5th place with 963 correct answers was Hannah Pollail, Grade 5
6th place with 958 correct answers was Gabriel Amparo, Grade 2
7th place with 956 correct answers was Monet Nikolic, Grade 5
8th place with 952 correct answers was Luis Santos, Grade 3
10th place with 934 correct answers was Jenna Joseph, Grade 4
Congratulations to everyone on all your hard work!
Don't stop now!
Even though Sumdog's Essex County Math Contest is over, our students can still use the site as much as they want. Their free logins have no time limit, and Sumdog has a limitless supply of math questions for them which are tailored to their individual learning needs. They can use the Sumdog website on your computer, or download the iPad or Android app.
Grade 2B Planting Daffodil Bulbs
Look out for their blossoms in the Spring. Click here for more pictures.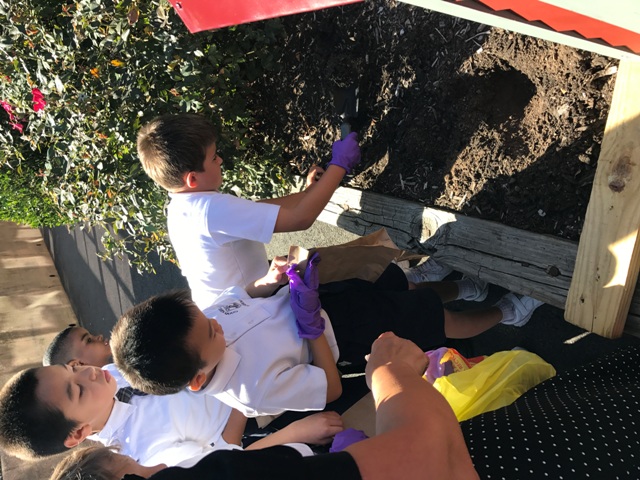 2016-2017
Grade 4 Social Studies Project
For their final Social Studies project students in 4-A and 4-B presented "Notable New Jerseyans." People with a strong connection to New Jersey were researched. Students wrote "autobiographies' of these notable personalities ending with "who am I?' To make the project more interesting, some students chose to wear costumes, hats or even facial hair! Our New Jersey personalities ranged from Clara Maass to Judy Blume, Grover Cleveland to Yogi Berra, Lucy Stone to Christine Todd Whitman and many more!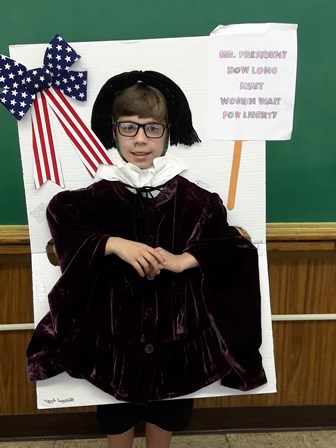 STREAM Competition
On May 10th, several of our 6th-8th grade girls were invited to Holy Angels Academy in Demarest to participate in their STREAM Competition (Science, Technology, Religion, Engineering, Art and Math.) This year's theme is "Music in Water." 8th graders: Claire Cabanatan, Adrianna Cruz, Angela Mikelinich and Kimberly Lapola as well as 7th graders: Sophia Gonzalez, Erin Miskell and Anh Tran placed 2nd in the 8th and 7th grade division respectively. Allison Zambrano, Sara Tan, Liana Minichini and Faith Criscione placed first in the 6th grade division. Congratulations to all!
GSA Choir ranked Superior
The GSA Choir, Voci!, was awarded the rank of "Superior" at the 7th Annual iSing Festival. 64 students of the choir participated. Congratulations to Ms. DeVone and to all the students.
NJHS offers Easter Baskets
Members of our National Junior Honor Society made Easter baskets for the retired sisters at Villa Walsh in Morristown. The baskets were handmade and filled with edible treats, donated by middle school students. Together with parent volunteers and Mrs. Metallo, the students delivered the baskets on Good Friday. It was a great experience for our students as they brought smiles and made Easter brighter for the sisters. Click here for photos.
GSA wins 2017 Catholic Challenge
Congratulations to 7th grader Christian Hui for winning 1st place in the 2017 Catholic Challenge sponsored by the Archdiocese of Newark. Students from other schools squared off "Jeopardy style" demonstrating their knowledge of faith, doctrine and church history. Congratulations also to the other GSA team members, Candice Davila, Angela Mikelinich and Selena Kossup, who was a finalist in the last round of the competition. Thank you to Mrs. Metallo for her time and dedication in our Religion Club and preparing the students for the challenge.
Click here for pictures.
Valentines for Veterans
Students from 3rd to 8th grade made Valentine cards for Veterans. Congressman Rodney Frelinghuysen, Commander Jack Kane of the Nutley VFW and Field Representative Nick D'Alessio visited our school and picked up the cards. The cards were personally delivered to local VFW men and women. Our third graders made a hit when they read a few of the cards to our guests.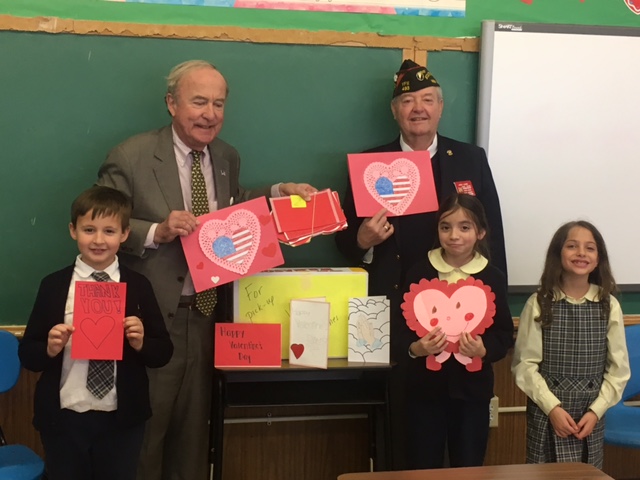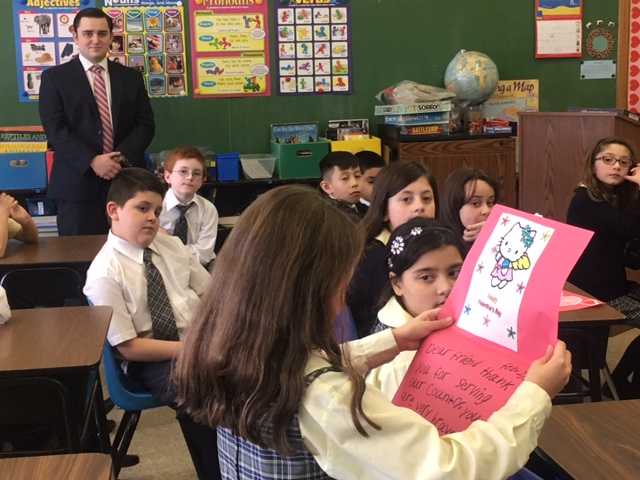 GSA Welcomes Students from Phoenix Center
Good Shepherd Academy students and staff welcome Phoenix Center students this past December for a friendly game of dodge ball, soccer and volleyball. Carmine Colasurdo, GSA Physical Education teacher, headed the challenging, competitive, friendly games enjoyed by all. Phoenix Center is a not-for-profit school serving the educational, behavioral and therapeutic needs of students ages 5-21 with autism, multiple disabilities, behavioral and intellectual disabilities.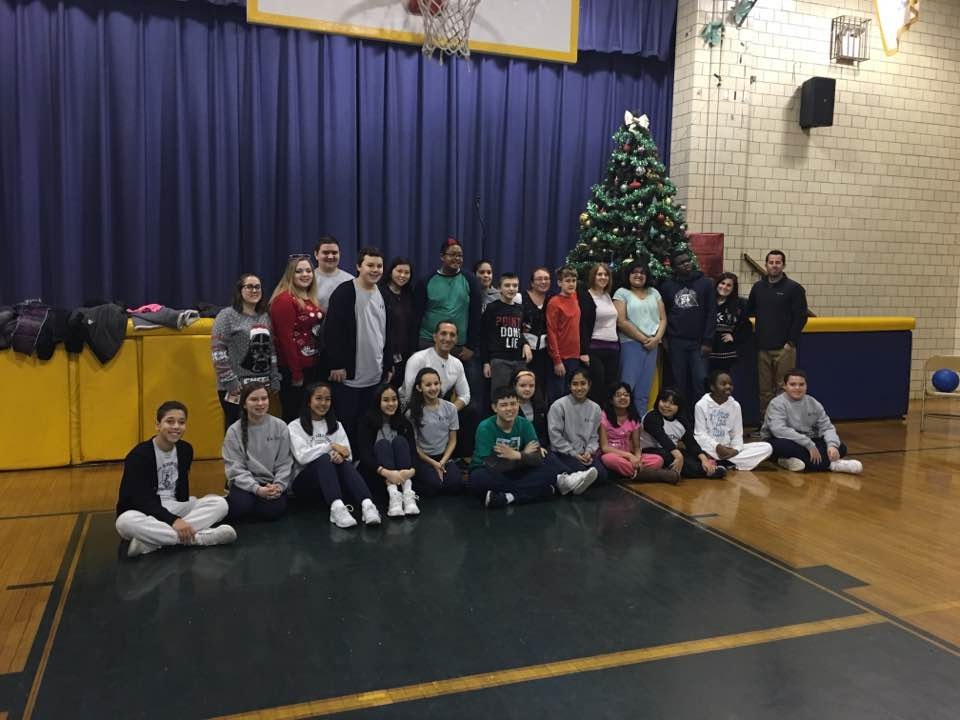 NJHS holds Toy Drive
On December 22, members of the GSA National Junior Honor Society delivered boxes of toys collected at school to the Center for Hope and Safety located in Rochelle Park. The organization was thrilled to receive such generous donations. The students collected, sorted and delivered the packages, that were to be distributed to those in need on Friday December 23rd, in time for Christmas.
Hour of Code
Our students are once again participating in the worldwide Hour of Code™!
We live in a world surrounded by technology. We know that whatever field our students choose to go into as adults, their ability to succeed will increasingly hinge on understanding how technology works.
That's why our entire school is joining in on the largest learning event in history: The Hour of Code™, during Computer Science Education Week (Dec. 5-11). We have already joined more than 100 million students worldwide who tried an Hour of Code™.
With the Hour of Code™, computer science has been on homepages of Google, MSN, Yahoo! and Disney. Over 100 partners have joined together to support this movement. Every Apple Store in the world has hosted an Hour of Code™. President Obama wrote his first line of code as part of the campaign.
"The Hour of Code™ is a nationwide initiative by Computer Science Education Week [csedweek.org] and Code.org [code.org] to introduce millions of students to one hour of computer science and computer programming." "The Hour of Code™ is designed to demystify code and show that computer science is not rocket science—anybody can learn the basics," said Hadi Partovi, founder and CEO of Code.org. "
When they finish each tutorial, the students earn a certificate. The Hour of Code™ is just the first step on a journey to learn more about how technology works and how to create software applications.
Please click this link to view photos of our excited and engaged students!