<!- box:side1 -->

Students

Student News

Pre-School Program: GSA Lambs

GSA Pride

National Junior Honor Society

Science Explorers Club

Musical Theatre

Gifted and Talented

Anti-Bullying

Student Council

Photo Gallery

Junior Stewardship

Book Fair



Pre-School Program: GSA Lambs
Our aspiration at Good Shepherd Academy's Little Lambs Pre-school is to provide a foundation for Catholic values and traditions, as well as stimulate early childhood education. Through art, science exploration, music, and literacy (with an emphasis on letter sounds and fine motor skills), we strive to provide a proper academic and social environment that will prepare our students for kindergarten and beyond. In our warm and friendly atmosphere, our children flourish through dramatic play and fun physical activities (which encourage gross motor skills) that incorporate both cooperative and independent play. Good Shepherd Academy's Little Lambs Pre-school ensures that each child be nurtured and guided to reaching his or her full creative, intellectual, social, and independent self.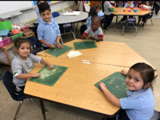 Summer Program
Want your child to be fully prepared for pre-school? Good Shepherd Academy's Little Lambs is now offering a 6-week summer program for children entering both pre-k 3 and pre-k 4 in the fall ! Students will not only have a blast participating in fun activities, but they will also be familiarized with pre-k concepts (writing, literacy, numbers, shapes, and arts and crafts, amongst others) by G.S.A.'s pre-school teachers.
6-week program from June 19 th -July 26 th
Cost: Full 6 week fee - $1,000
Weekly fee - $200.00
Children not attending G.S.A. in the fall are still welcomed to register, however, our summer program follows the same full day schedule that we follow during the school year (9 a.m.- 3 p.m.)
Before and after care also available upon request.