Musical Theatre
We would like to invite you to join our musical theatre program booster club - TAG (Theatre Arts Group)! TAG is open to all GSA families, alumni and teachers. This group is crucial to the success of our productions each year. We rely on our volunteers heavily to produce our shows and as a result, we have been wildly successful over the past years. We are very excited about this year's production and we hope that you will join us!
Contact Info: Jennifer Santos, President and Dawn Nankivell, musicaltheatreclub@gsanutley.org
Musical Theatre Summer Program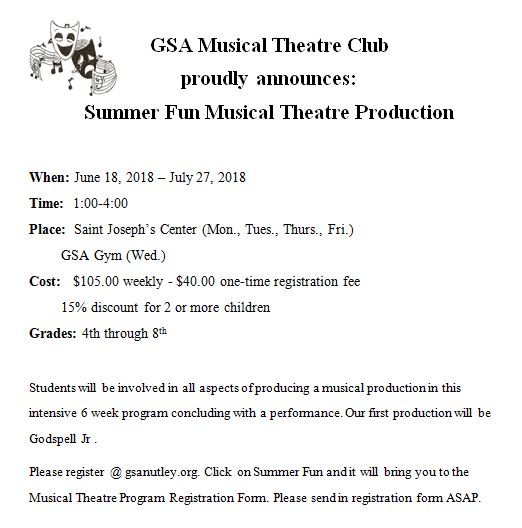 Note: Please register by Monday, June 4, 2018. Program is open to the public. Students do not need to be enrolled in GSA to participate.
Click here to access registration forms.
Use the Buy Now buttons below to submit registration and weekly dues.
---
Summer Musical Theatre Club Registration
---
Summer Musical Theatre Club Weekly
Mary Poppins Jr. Musical
Congratulations to the entire cast and crew on incredible performances of Mary Poppins Jr! Special thank you to our directors, Mrs. Cathy Serio and Mrs. Margherite Alfano, and the parent volunteers who worked endless hours sharing their time and talent to prepare for this outstanding musical. Thank you to all who came out and helped make another GSA production a huge success!
Click here for pictures of Mary Poppins Jr. Musical
Video Clip
Supercalifragilisticexpialidocious!
Mary Poppins Video Order Information
Families will have the option to order DVDs ($25) or Flash Drives with HD quality of the play ($30). These can be delivered to the school and sent to your child.
Important Note About Delivery : Upon checkout and entering your billing information, you will need to click the link ( image of link below) to indicate your child's information before clicking Next.
All orders will be delivered to the school within 6 weeks of the taping. Anything ordered after June 1, 2018 may incur shipping charges.
To place an order, go to: http://www.randallkenneth.com/gsa-store/
Password: gsatag
----------------------------------------------------------------------------------------------------------------------------------------------------
Follow us on Facebook for the latest news and updates. Click here to access our page.