Musical Theatre
We would like to invite you to join our musical theatre program booster club - TAG (Theatre Arts Group)! TAG is open to all GSA families, alumni and teachers. This group is crucial to the success of our productions each year. We rely on our volunteers heavily to produce our shows and as a result, we have been wildly successful over the past years. We are very excited about this year's production and we hope that you will join us!
Contact Info: Jennifer Santos, President and Dawn Nankivell, musicaltheatreclub@gsanutley.org
2018-2019 Musical
Performance dates will be on April 5th - 7th, 2019. It's a "big bright beautiful world" as everyone's favorite ogre, Shrek, leads a cast of fairy tale misfits on an adventure to rescue a princess and find true acceptance.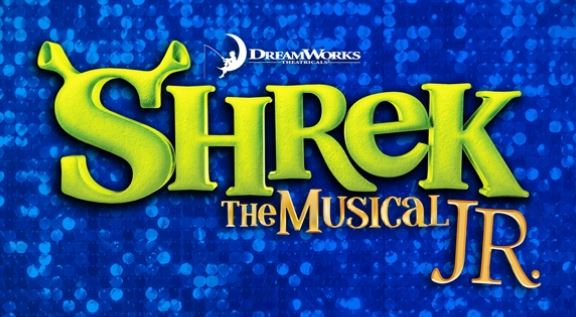 Premium Seats
Premium Seats are 4 reserved seats in ROW RIGHT A. Complete and return the form, along with $5 per entry in a sealed envelope to the attention of Jennifer Santos - c/o Brianna Santos – Grade 8. Purchase as many entries as you like for more chances to win. Winners will be posted on March 4 th , 2019.
***** Click here to access premium seats order form.
Program Boosters
A booster gives you the opportunity to send good wishes to cast members or to recognize their hard work and accomplishments. There are two different Booster forms. One for personal well wishes to the cast and directors, the other for Business adverting. The solicitation letter is to accompany the Business ad form for the Business's Tax use for donations and contributions.
Please submit Boosters forms (personal and or business) with your artwork/business card to the GSA office in an envelope marked "SHREK the Musical Jr. Booster/Ad Order". If you would like to submit your artwork digitally, please email to
musicaltheatreclub@gsanutley.org
.
Please print clearly on all forms.
All checks should be made out to GSA. Cash and Checks along with the form should be sent into the GSA office in a sealed envelope marked "SHREK the Musical Jr. Booster/Ad Order" to the attention of Jennifer Santos C/O Brianna Santos 8th grade.
The Cast member who sells the most Boosters gets a prize!
***** Click here to access booster form.
****Boosters and Premium Seat entries are due March 1st.
Godspell Jr. Musical - Summer Program
Our first Summer Fun Musical Theatre production of Godspell Jr. was a success! Congratulations to the entire cast. Thank you to our directors, TAG and other parent volunteers for all their time and hard work. Thank you to all who came out.
Click here to view musical pictures.
Meeting Minutes
Follow us on Facebook for the latest news and updates. Click here to access our page.
---
THIS IS FOR EXISTING ORDERS ONLY.