Student News
2017-2018
Grade 2B Planting Daffodil Bulbs
Look out for their blossoms in the Spring. Click here for more pictures.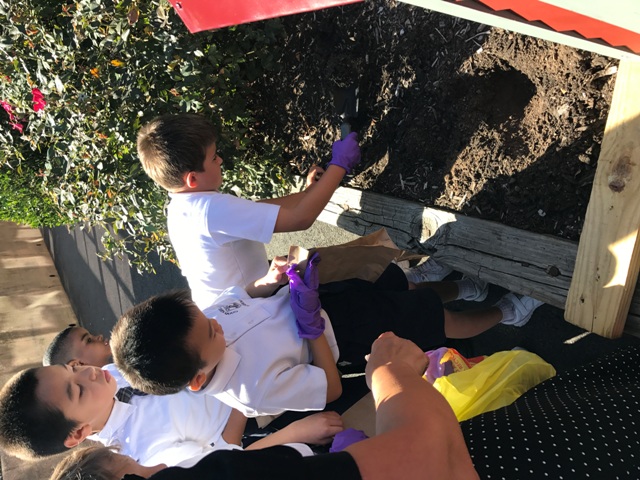 2016-2017
Grade 4 Social Studies Project
For their final Social Studies project students in 4-A and 4-B presented "Notable New Jerseyans." People with a strong connection to New Jersey were researched. Students wrote "autobiographies' of these notable personalities ending with "who am I?' To make the project more interesting, some students chose to wear costumes, hats or even facial hair! Our New Jersey personalities ranged from Clara Maass to Judy Blume, Grover Cleveland to Yogi Berra, Lucy Stone to Christine Todd Whitman and many more!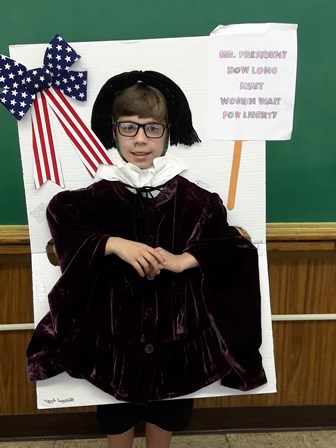 STREAM Competition
On May 10th, several of our 6th-8th grade girls were invited to Holy Angels Academy in Demarest to participate in their STREAM Competition (Science, Technology, Religion, Engineering, Art and Math.) This year's theme is "Music in Water." 8th graders: Claire Cabanatan, Adrianna Cruz, Angela Mikelinich and Kimberly Lapola as well as 7th graders: Sophia Gonzalez, Erin Miskell and Anh Tran placed 2nd in the 8th and 7th grade division respectively. Allison Zambrano, Sara Tan, Liana Minichini and Faith Criscione placed first in the 6th grade division. Congratulations to all!
GSA Choir ranked Superior
The GSA Choir, Voci!, was awarded the rank of "Superior" at the 7th Annual iSing Festival. 64 students of the choir participated. Congratulations to Ms. DeVone and to all the students.
NJHS offers Easter Baskets
Members of our National Junior Honor Society made Easter baskets for the retired sisters at Villa Walsh in Morristown. The baskets were handmade and filled with edible treats, donated by middle school students. Together with parent volunteers and Mrs. Metallo, the students delivered the baskets on Good Friday. It was a great experience for our students as they brought smiles and made Easter brighter for the sisters. Click here for photos.
GSA wins 2017 Catholic Challenge
Congratulations to 7th grader Christian Hui for winning 1st place in the 2017 Catholic Challenge sponsored by the Archdiocese of Newark. Students from other schools squared off "Jeopardy style" demonstrating their knowledge of faith, doctrine and church history. Congratulations also to the other GSA team members, Candice Davila, Angela Mikelinich and Selena Kossup, who was a finalist in the last round of the competition. Thank you to Mrs. Metallo for her time and dedication in our Religion Club and preparing the students for the challenge.
Click here for pictures.
6th Grader wins NJ Men's Gymnastics State Championship
Congratulations to Bobby Alessio for winning the All-Around Level 8 in the 2017 NJ Men's Gymnastics State Championships held at Bloomfield High School last weekend. He placed 1st in all six events.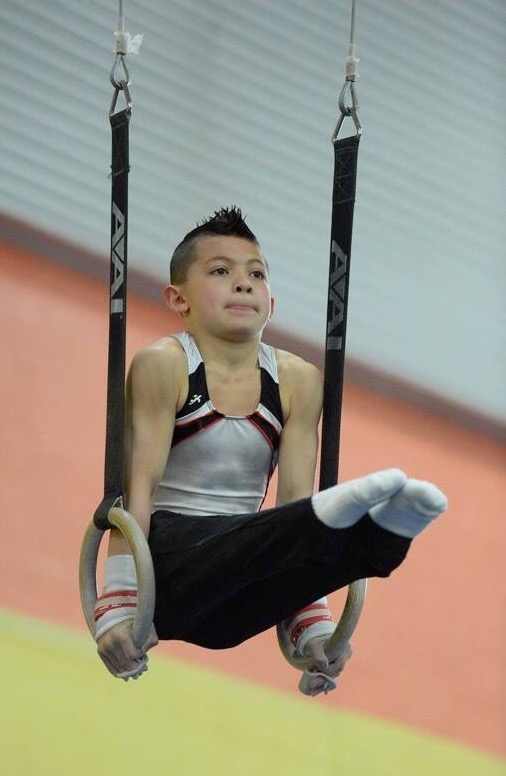 Valentines for Veterans
Students from 3rd to 8th grade made Valentine cards for Veterans. Congressman Rodney Frelinghuysen, Commander Jack Kane of the Nutley VFW and Field Representative Nick D'Alessio visited our school and picked up the cards. The cards were personally delivered to local VFW men and women. Our third graders made a hit when they read a few of the cards to our guests.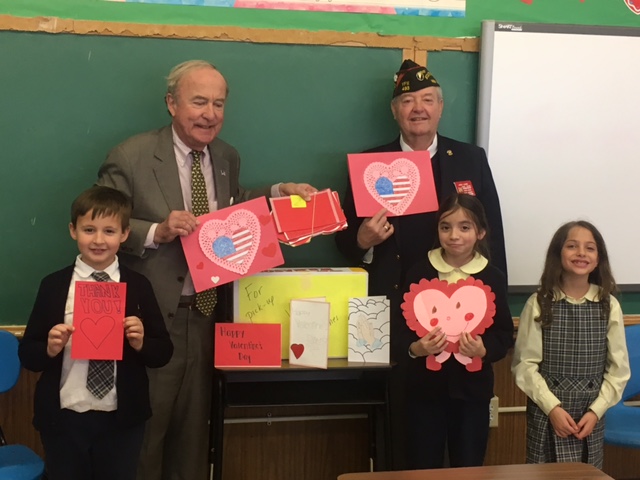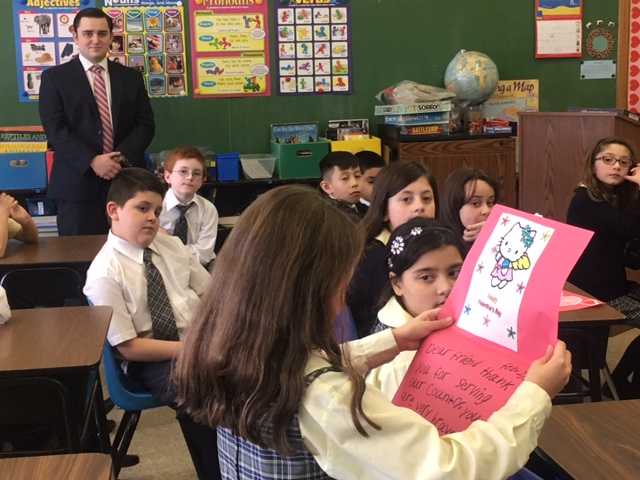 GSA Welcomes Students from Phoenix Center
Good Shepherd Academy students and staff welcome Phoenix Center students this past December for a friendly game of dodge ball, soccer and volleyball. Carmine Colasurdo, GSA Physical Education teacher, headed the challenging, competitive, friendly games enjoyed by all. Phoenix Center is a not-for-profit school serving the educational, behavioral and therapeutic needs of students ages 5-21 with autism, multiple disabilities, behavioral and intellectual disabilities.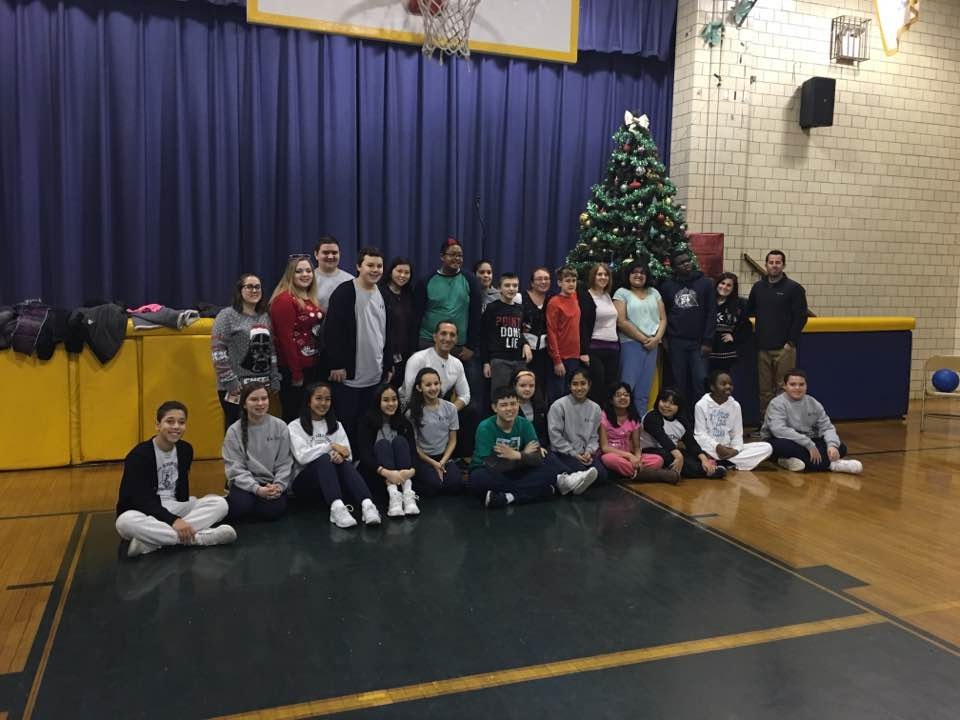 NJHS holds Toy Drive
On December 22, members of the GSA National Junior Honor Society delivered boxes of toys collected at school to the Center for Hope and Safety located in Rochelle Park. The organization was thrilled to receive such generous donations. The students collected, sorted and delivered the packages, that were to be distributed to those in need on Friday December 23rd, in time for Christmas.
Christmas STEM Project
Students in Grade 3A participate in a STEM project: Creating Gingerbread Houses. They did very well, with only one mishap! Merry Christmas to all!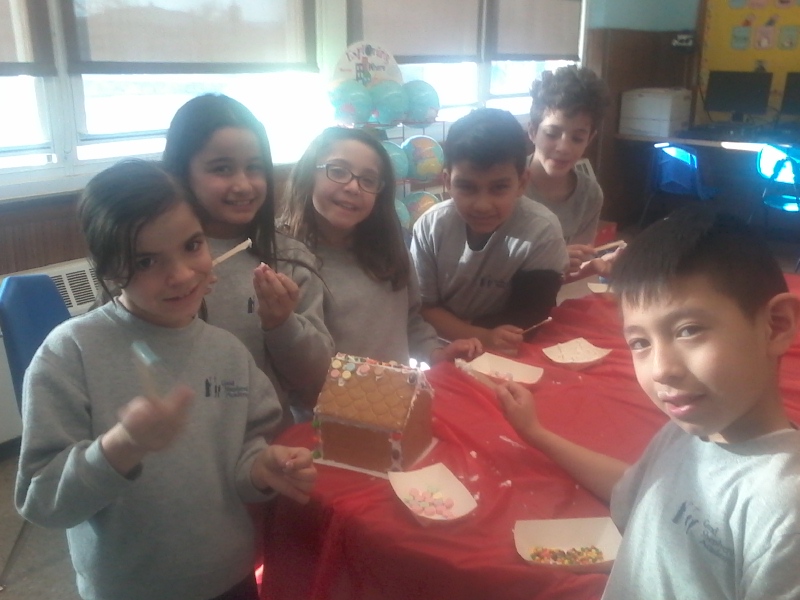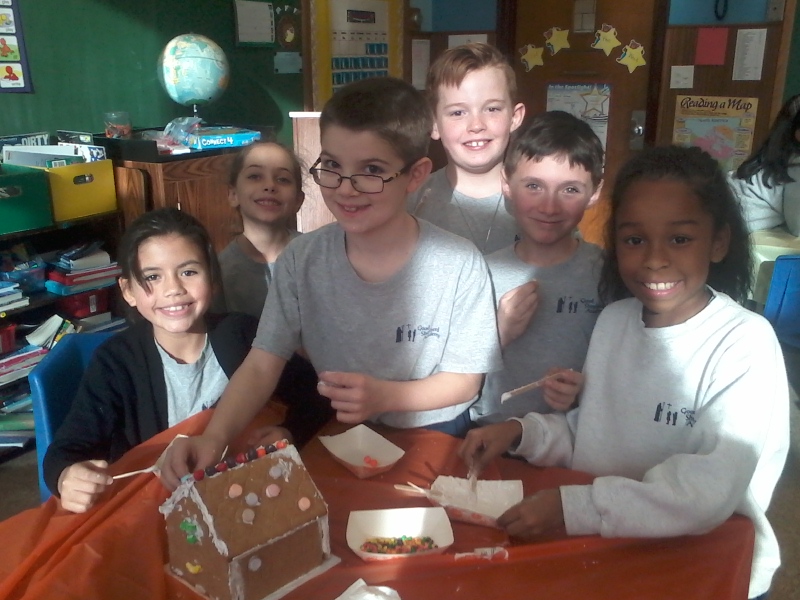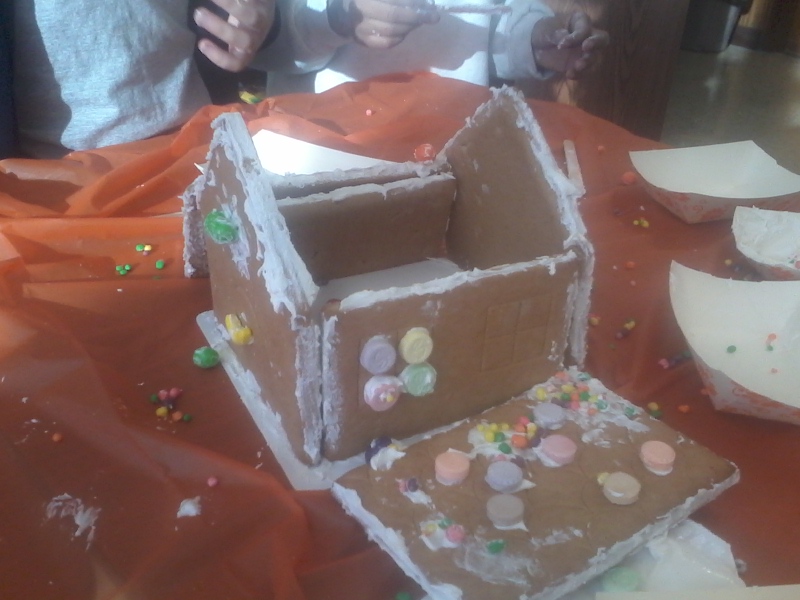 Hour of Code
Our students are once again participating in the worldwide Hour of Code™!
We live in a world surrounded by technology. We know that whatever field our students choose to go into as adults, their ability to succeed will increasingly hinge on understanding how technology works.
That's why our entire school is joining in on the largest learning event in history: The Hour of Code™, during Computer Science Education Week (Dec. 5-11). We have already joined more than 100 million students worldwide who tried an Hour of Code™.
With the Hour of Code™, computer science has been on homepages of Google, MSN, Yahoo! and Disney. Over 100 partners have joined together to support this movement. Every Apple Store in the world has hosted an Hour of Code™. President Obama wrote his first line of code as part of the campaign.
"The Hour of Code™ is a nationwide initiative by Computer Science Education Week [csedweek.org] and Code.org [code.org] to introduce millions of students to one hour of computer science and computer programming." "The Hour of Code™ is designed to demystify code and show that computer science is not rocket science—anybody can learn the basics," said Hadi Partovi, founder and CEO of Code.org. "
When they finish each tutorial, the students earn a certificate. The Hour of Code™ is just the first step on a journey to learn more about how technology works and how to create software applications.
Please click this link to view photos of our excited and engaged students!
Sumdog's Essex County Math Contest Results are in!
For the first time, a class in our school was the overall winner in the contest! Grade 4 was the class that scored the highest throughout the contest. As a result, GSA earned 30 free student subscriptions/memberships to allow access to all of Sumdog's available games.
GSA also had six students who earned Sumdog's Certificate of Merit for placing in the top 10! The top ten students are based on the number of questions answered correctly in the contest. (The maximum score is 1000.)
Congratulations to the following students:
Catarina Pita Grade 4 1st place with a score of 995 correct answers
Sharon Pinto Grade 3 2nd place - 994
Monet Nikolic Grade 4 4th place - 955
Jerruel Cabalfin Grade 2 6th place - 940
Katherine Tan Grade 4 9th place – 919
Ysabelle Frum Grade 3 10th place - 919
We also had an additional twenty-two students who placed in the top 50!
Approx. 70 GSA students from grades 2-7 participated on their own time. 461 students from 40 classes participated from throughout the county during the contest which was held from October 14 – 20 at Sumdog's website, http://www.sumdog.com/.
SUMDOG Update: Some of our students chose to participate in Sumdog's National Holiday Math Contest. Our own Sharon Pinto from Grade 3A came in 8th place with a score of 994 out of a possible 1000. Approximately 116,000 students from around the country participated. Congratulations Sharon!
Girl Scout Cadets receive Red Cross Babysitter Training Certificate
On October 15th four of the Girl Scout cadets, Emily Capezio, Audrey Gailus, Stella Halpin and Valeria Idrovo, attended a Red Cross babysitter training in Fairfield. This along with their American Heart Association first aid/CPR/AED certification make them ready to start their own little business!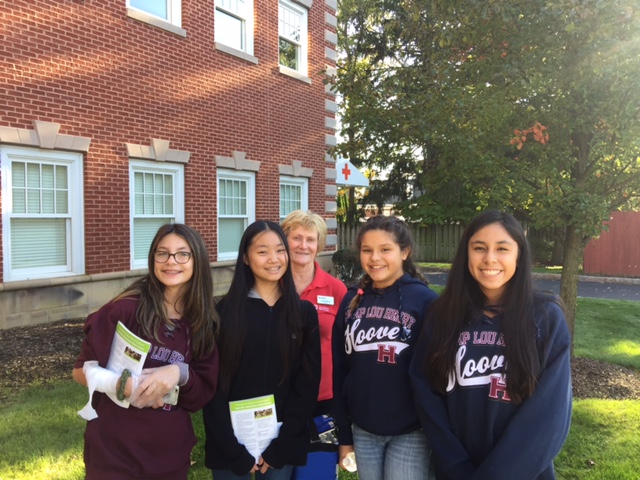 Celebrating Archbishop Meyers
Sr. Jane, together with select 8th grade students, presented Archbishop Meyers a spiritual bouquet as he celebrates his 75th birthday, 50 years as a priest and 15 years as Archbishop of the Newark Archdiocese.